Check if your VPN Client allows local network traffic
Synergy is able to connect between client and server computer while any of the two is connected to the VPN.
This is possible if the VPN client allows local network traffic while connected.
For example, if you are using the Cisco AnyConnect client, you need to verify that this option is enabled: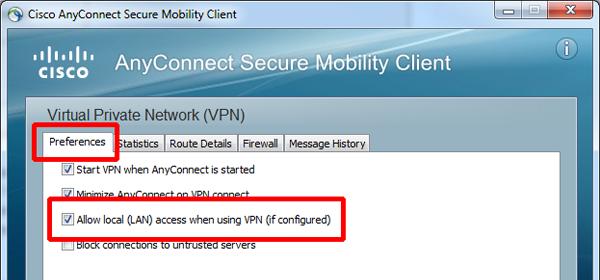 After verifying with your VPN client application, you can then proceed to configure Synergy.
There are two connection options to consider:
Using Auto-Config
Using Manual Configuration
Using Auto-Config:
When using auto-config on a VPN setup, please make sure that the auto-config broadcast happens in your local network. To set this up, please follow these instructions:
Open Synergy / Settings
In the interface setting, enter your computer's local network IP address.
Click Ok and Apply
Using Manual Configuration
If you are connected to a VPN, and, you are using manual configuration, the setup is a regular Synergy configuration: you just install the server and client configuration with manual configuration.
Confirm that you are using your local network IP address and not the VPN IP address assigned.